Millennium Tower
Location of Project - City:
Location of Project - Country:
e.construct Services:
Value Engineering
Structural Engineering
Precast Engineering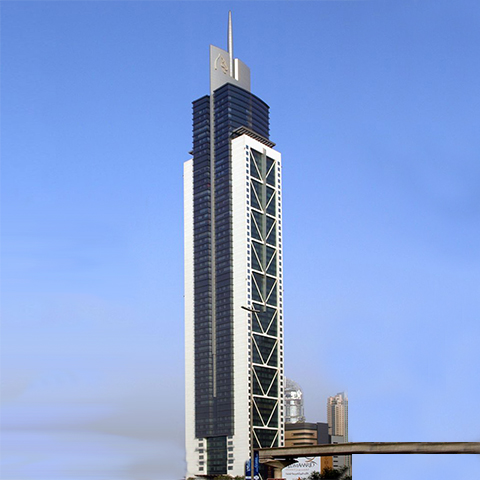 The building consists of Basement, Ground, Mezzanine, Transfer+55 Typical Floors+3 Service+Roof with a total height of 223.50m above ground in addition to a 27m steel feature. The building has a width of 30m and a length of 45.50m.
Scope of Work:
Value Engineering, Structural Design, Precast Engineering and Construction Engineering.
Clients:
Dubai Contracting Company LLC
Contractors:
Dubai Contracting Company
Special Feature:
All horizontal elements are in Precast Concrete including balconies. Among the highest buildings in the world with this nature. Floor to floor cycle has reached 3 days.
Special Feature of e.construct Service:
Major challenge in the project was the tight schedule. The Value Engineering not only resulted in substantial saving in quantities of steel and concrete, but expedited the construction by maximizing the utilization of precast concrete. The contractor was able to achieve about 80 hours floor cycle. incorporating cladding fixing system in the precast floor system resulted also in a significant saving in curtain wall installation. The Tower was handed over on time without any delay. Success was because of understanding the site needs and continuous collaboration between the design and construction teams.
Project Type:
High Rise
Precast Concrete
Residential
SIZE OF PROJECT:
100,000 m2
Other Photos